Recipe // Smashed Pavlova
Whether you're planning a decadent family feast or after something a little indulgent as you curl up in front of Netflix, this recipe is for you! Smashed Pavlova with pomegranates and crushed roasted nuts, (or with sliced mango and passionfruit), either version is a quick and easy delight for the whole family! Serves 4-6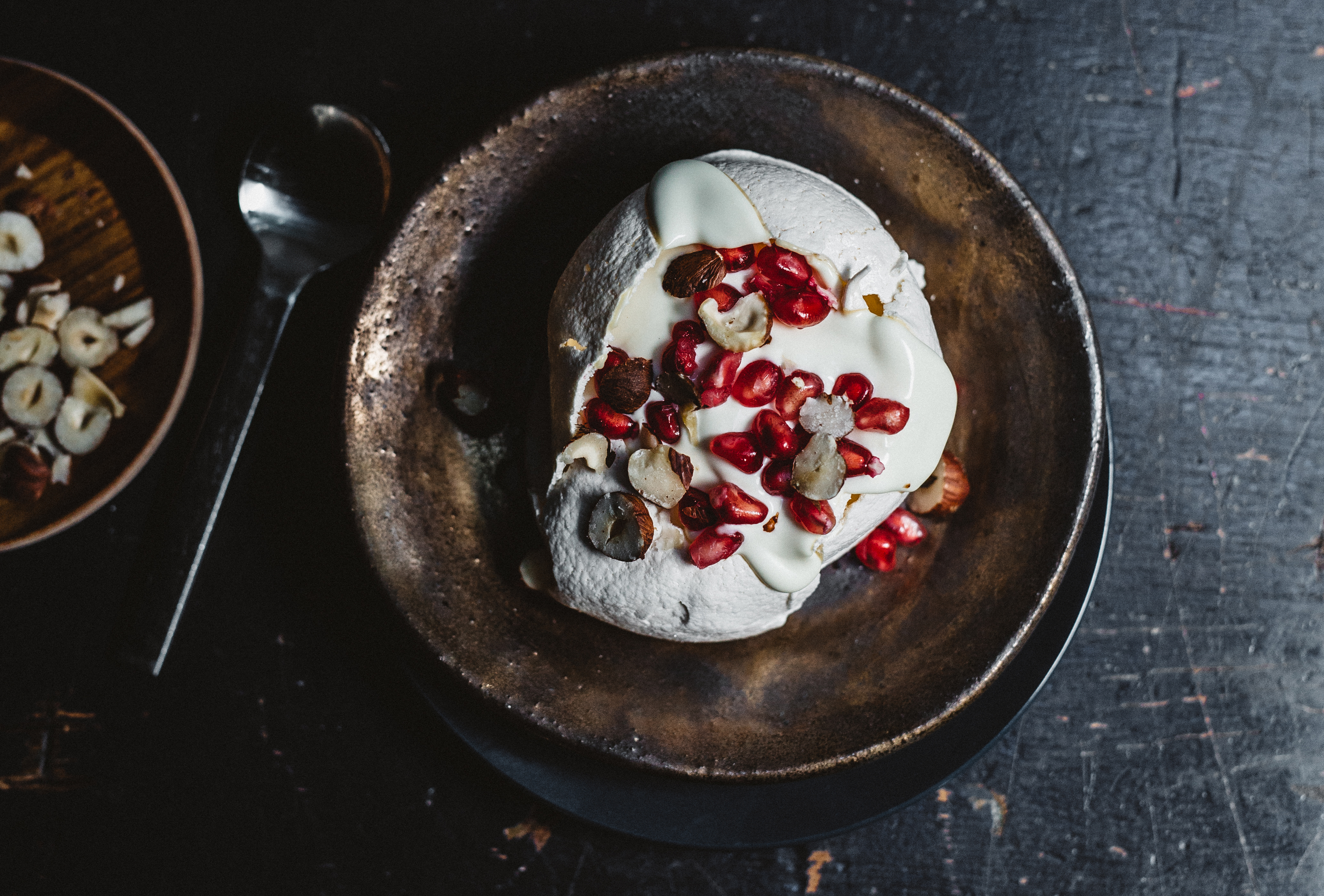 Ingredients
Meringue
2 egg whites
1/2 cup castor sugar
1 tsp cornflour
1/2 tsp white vinegar
Topping
Whipped cream to serve
2 tbsp chopped roasted hazelnuts
Seeds from half a pomegranate
or,
3 mangoes sliced
3 passionfruit
Directions
Preheat oven to 150 degrees.

Use an electric mixer to whisk the egg white to form soft peaks.

 

Gradually sprinkle the sugar over the egg whites as you continue to beat. The whites should become stiff and glossy. Beat for another minute or two after the sugar has all been combined. 

Sift the cornflour over the top and add the vinegar, fold through carefully. 

Line a baking tray with baking paper and dollop the mixture into 4-5 separate balls.

 

The shape doesn't really matter as they'll be smashed in the end anyway.
Reduce the heat of the oven to 120 degrees and cook the meringues for 35 minutes.

 

Turn the oven off but do not open the door.

 

Leave the meringues to cool in the oven for at least 30-40 minutes.

 

You can make the meringues in advance of when you plan on using them. Just make sure they are stored in an airtight container.

When cooled and ready to serve, break up the meringues and serve with the pomegranate seeds and crushed hazelnuts and whipped cream. 
Alternate Topping – Mango and Passionfruit
Instead of garnishing with the hazelnuts and pomegranate seeds, try this sweeter alternative. Slice three mangoes into small slithers and place over the cooled smashed meringue. Top with fresh passionfruit and serve with a generous dollop of whipped cream on the side.

 
Introducing Wild Blossom. Shop the collection now!

Stay up to date with Bohemian Traders | Sign up to our newsletter