Bonnie Gray // Scientist Of Colour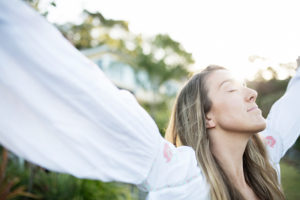 27-year-old Bonnie Gray is Mother Theresa with a paintbrush. A self-taught illustrator who uses the money from her art to literally help homeless people off the street, Bonnie's vibrancy could put a rainbow to shame. Describing herself as a 'scientist of colour', Bonnie humbly admitted she only bought her first canvas last year as an experiment. Her paintings are now commissioned worldwide. It was a privilege to glimpse into Bonnie's colourful world and talk about 'friending colours', not caring what people think and her fetish for shoes that share a story and scream adventure.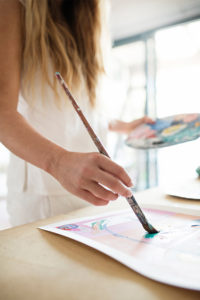 Photography: Jozef Oldfield
Words: Jessica Oldfield
JO: What are you working on at the moment?
BG: I'm working on some purses for The Bigger Picture Project. So once every three months I collaborate with a small business — someone who's 'up and coming.' Last time I worked with @ragamuffin_jewellery and she was just starting out. So we did her jewellery and I did the purses. This time round I'm painting leather purses made by a girl called Jodie.
JO: The bigger picture project supports homelessness on the central coast is that right?
BG: Yeah there's a shelter [for the homeless] in Gosford and a couple I know, Mel and Matt Hope, who hang out there Wednesday nights. Pretty much it feels like Christmas because they get a lot of food donations and have heaps of volunteers handing out food. But for Matt and Mel, they're really intentional about being 'mum's and dad's' to people who haven't had that and helping them to court cases and getting them off the street into homes. So the money we made last time for The Bigger Picture Project paid for a brand new fridge for a guy who'd never lived in a home before. They also bought new utensils, a microwave, and all this stuff for him to get setup. So now he's not on the streets and he's living life again in his own little crib, which is really cool.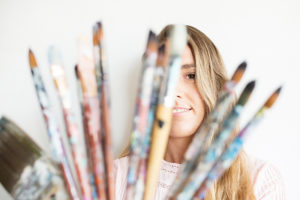 Embroidered Boho Dress in Dusty Pink
JO: I've got to be honest I didn't realise homelessness was such a big issue on the Central Coast…
BG: Yeah, it's massive, especially in Gosford. I don't know the stats, but a lot of people are sleeping on the streets every night.
JO: Well your arts doing a really good thing then. How did you get started as an artist? … I mean illustrator, you call yourself an illustrator, right?
BG: I started off doing illustration and a lot of watercolour, very childlike things. Then after a while I bought my first canvas, I think it was last year, and had a play with acrylics and I posted it on Instagram and people were like: 'oh my gosh, I want one of those!' So from there I've just been experimenting. I feel like canvas is…I just love it. I feel like I've found more love for it then illustration…I love doing abstract. It's more freeing.
JO: I heard you describing a concept earlier called 'friending colours'. Tell me more about that.
BG: Well I guess I feel like I'm a scientist of colour…So I'm always experimenting with colour, just playing around. So if, for example, I go to a kid's party and I see sick streamers, like a really cool red and a different kind of blue with it. I'll think: 'that's a cool colour'. Keep that in the back of my mind and then have a play with it later. It's just like best-friending colours. Like yellow and black or the flamingo pink and a turquoise looks cool together. It look very 90's or California, summery vibes. It's like fruit salad you just pick your fruit and your colours and then 'boom', it's a beautiful picture.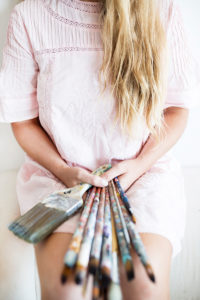 Embroidered Boho Dress in Dusty Pink
JO: Do you think you have a photographic mind?…Are you constantly just taking in colours wherever you are?
BG: I think so. It feels like that. When I see two colours, or four colours that look sick I'll just put that away in my mind, or I also use a notebook. And as soon as I get home I'll have a play straight away and try and find the colour that I saw and put it down on scrap paper and then I'll use it for an artwork.
JO: So when do you think your art transitioned from just a creative hobby to a business?
BG: I think when I started off with art it was more of an enjoyment and me processing. It really helped me process my thoughts. I did song writing and a lot of my art has hidden words in it.
JO: Yeah I noticed that.
BG: Yeah I like to hide words. I feel like one thing that really stirred in my heart that I wanted to be the essence of my art, or to speak out of it, was the vibrancy and the joy, 'cause it brings me joy. And hope. While I paint I play with music and then my brain thinks of words. I try not to put on any music with lyrics and just use instrumental. I listen to a crew called Bethel a lot and it's a symphony. I also listen to the soundtrack from Pride and Prejudice, which sounds really crappy I know but it's really peaceful and beautiful. So the colours are playing, I'm dancing with my paintbrushes [laughs] and then the music is playing and I start song writing through it. I think 'cause I've always written poems so my brain is on high alert with lyrics. There's been moments where I do abstracts and I actually can see what I'm painting, even though people probably wouldn't be able to get what's going on in that picture, and then I'll hide the words in it. I love it when I have emails like this one in particular I had off a client that was like: 'Hey I suffer with depression but every time I go through your feed [Instagram] it brings a joy and a hope.' And I'm like: 'Yes!' 'Cause that's exactly the heart behind it all. And she asked me: 'Can you paint something that I can look at every single day.' And I got to hide heaps of different things in that work for her.
JO: You're creating colour therapy.
BG: Yes.
JO: Are most of your commissions local?
BG: They actually vary. I've had a lot from Germany, a few clients from America. But mostly Sydney and Melbourne. I've had a few people from Queensland. The Central Coast is really supportive as well, I get a lot of people buying stuff.
JO: That's cool. So you think the Central Coast supports working artists?
BG: Yeah I reckon they do.
JO: Speaking for myself, I love art and I think it's a real investment but I know that I don't go out and buy it all the time. Is that changing do you think?
BG: I think it comes down to people and personalities. Like in Sydney that's booming, it's really accepted and a lot of people that have money actually go: 'I wanna spend it on art or interior'. So Sydney has a large demographic of people that are into that. On The Coast I know people are less inclined to. But also, I work in a retail interior store and sell my art there and I hear people ask: 'How much is that?' I notice there are lovers of art and then there are people that are like: 'Oh that's a cool colour.' You know what I mean? They don't actually get the process.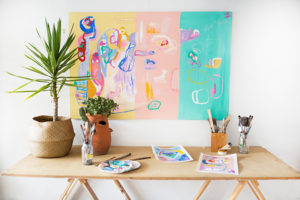 "It's like fruit salad you just pick your fruit and your colours and then 'boom', it's a beautiful picture."
JO: So eventually would you like your art to be how you earn a living?
BG: It would be cool, 'cause at the moment I'm doing a business course.
JO: Tell me about that.
BG: It's a NEIS program, it's all government funded and I come out with a Certificate IIII in business. I think 'cause it's not my strength I find doing all that stuff really intense. But then I can see that it adds a back spine to everything that I do. So I'm thinking if I can nail that in a year and get it finished in time then it'll be a platform for the next couple of years. It hasn't been the greatest, but I kind of have to, it's called being an adult. [laughs]
JO: What's the hardest part about being your own boss?
BG: I think it's staying motivated, 'cause I like to juggle lots of different things. I can create and dream and do all that stuff, but now I've slotted in the practical, to-do list stuff. It's just the paperwork. I hate it.
JO: Admin! [laughs]
BG: Admin! [laughs] Eventually you can actually hire someone to do that and I think down the track that'll happen, but for now I've just got to do it and put that time aside and go one day and rock it out. But I think in the midst of it there are a few things I'm learning as a boss: like to still fall in love with art every day, not as a 'oh I have to do this'. If I think: 'I'm ticking it off the list, I have to do this.' I wont paint, I'll get on my bike and go to the beach and just go for a dip and get my mind off it and then come back and go: 'oh my gosh what colours should I use?' And start thinking and dreaming again. 'Cause every client I'm creating something for, I never want to just do it. I want there to be joy in the process.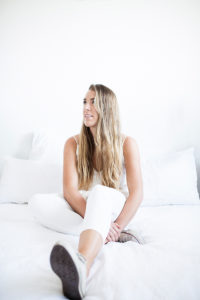 Strappy Singlet in White // Drop Crotch Pant in White
JO: When you were speaking about challenges earlier…is it difficult to shut out what people think when you're using social media to display your art, especially when you might be experimenting with something.
BG: I never think about what people think.
JO: Good. Tick. [laughs]
BG: I think it's really damaging for people. I think it causes a lot of interruption with fear and it resists you from moving forward into anything new. You have to come at painting like a kid. So when a kid paints for their mum or dad, they're like: 'this is the best thing I've ever done, look this is for you.' And of course the mum's going to say: 'that's amazing'.
When I mentioned to you about that canvas over there…I was experimenting with and realising that it was the most disgusting colour combination…but I look at it and I know I would never do that again. I use it as a play canvas now. So I did a whole layer of white wash paint, so you can hardly see what's underneath and let it dry and then thought of another creative idea to put on top of that. I went through this process of doing eight different paintings on top of it. So once it was bright colours, another time it was mostly black with hidden blues in it, stuff that I would never put together. It's good to have a canvas that's not for anybody other than yourself. 'Cause I think a lot of people who try and paint on a canvas for the first time feel it's really hectic and don't know where to start
JO: All the white space is a bit daunting.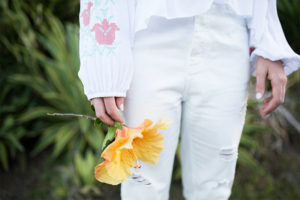 White Boho Deep V Embroidered Top // White Boyfriend Jean
BG: You have to start with one colour. Your favourite colour. Then start blending and playing. Its like play dough, you've just got to keep playing. And you can fix it up. People think you cant, but when you're doing abstract you can.
JO: Who encourages you in your art?
BG: It's funny, 'cause I haven't really felt that encouraged in it. [laughs] I have dyslexia really badly and I went to a school in Canberra that was of quite a high academic calibre. And I don't have an academic bone in my body. [laughs] A lot of the time at school I would doodle, and sketch and draw and write. I think that's where my processing came from, just drawing and writing around my sketches. But I never really showed anybody. I think when I went to music school I felt like that helped me process a lot of stuff as well.
JO: How long were you studying song writing?
BG: I did that for a year. It was in the northern beaches, I was in a little granny flat, I had no TV or anything and I was going a bit insane so I bought a tray of watercolours from Big W and just started painting and YouTubing. I just wanted to learn something. But currently who encourages me…it's my sisters a lot. I think 'cause we all process and chat and we're not intimidated. You know how some creatives can be that way with each other? We just have fun. We have no barriers, we're not threatened.
JO: So do you collaborate a lot with your sisters?
BG: We've done one project when they had The Gray Girls. They went to Salvation Mountain in the desert. Have you heard of that?
JO: No.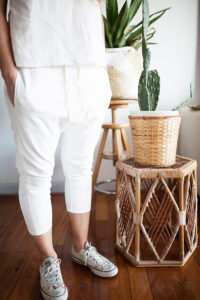 Strappy Singlet in White // Drop Crotch Pant in White
BG: You. Would. Love it. It's in Californian desert and this guy had property and he's painted all over it. I have to show it to you right now.
JO: Yeah show me. What was the project?
BG: Well with The Gray Girls they were going over buying garments and then coming back and doing shoots, but this one was called Salvation Mountain. It was really bright colours and they asked me to do some artwork for it. It was really cool there was cacti everywhere and then just desert all around this random rock full of colour.
JO: Yes I did see this! Incredible. I can see you living in a place like that one day…where all the paths and walls and floor of buildings are painted with colour…you should paint a city.
BG: That would be amazing.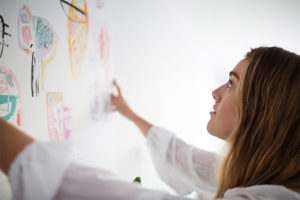 White Boho Deep V Embroidered Top
JO: Could you imagine yourself painting wearable art?
BG: Yes! I've actually got something really special in the pipeline. Some limited edition pieces.
JO: Ooh that sounds exciting. Look forward to that! What clothing do you feel good in?
BG: I like wearing high waisted jeans and old t-shirts. Not brand new t-shirts. I have these black boots that are my favourite things in the world and they're falling apart. I got them from Knotting Hill. I like things I have stories to. Like these painted converses I'm wearing, they were actually my best mates and she gave them to me. I think I have that with all my shoes, they all have stories. When I went to New York I bought black Connies, 'cause I really wanted a pair of shoes from there. Then recently I went overseas and I thought 'I have to buy a really sick pair of shoes that have walked around France and done an adventure somewhere.' I like 90's overalls. Not the long ones, the short ones.
JO: Yeah you've definitely got a 90's thing going on.
BG: I don't mind mixing styles. I love textures, like linens. And I love a mixture of colours and stripes. A bit of random I guess. I don't know what you'd say that style is.
JO: It's Bonnie Gray.
Follow Bonnie