Bohemian Traders // LONG and the SHORT of it
We are so lucky to be able to count Bev and Karen as treasured members of the Bohemian Traders community. It is a delight watching these girls share their unique personal style with the world, you would surely have caught them on instagram, @irismaystyle (Bev) and @styleloving2 (Karen). So, imagine how excited we were to hear that they were teaming up, and donning Bohemian Traders threads, for the second instalment of their 'LONG and the SHORT of it' series!
The 'LONG and the SHORT of it' is an editorial spread across both of Bev and Karen's blogs (irismaystyle.com & styleloving2.com.au – check them out) in which the girls match outfits whilst weaving in their own individual spin on the styling. The fabulous thing behind this initiative is that although they share a very similar taste in clothing, the girls have quite different body types. Bev is the taller one at 5′ 8″ (or 172cm), and Karen is shorter at 5'3″ (or 161.5 cm). They also possess a different shape and complexion, yet they have both found a way to completely pull off these adorable and striking looks!
Take a peek at our preview of their gorgeous editorial, hear what they have to say about some of their favourite BT items, and glean some essential wisdom from their personal styling tips!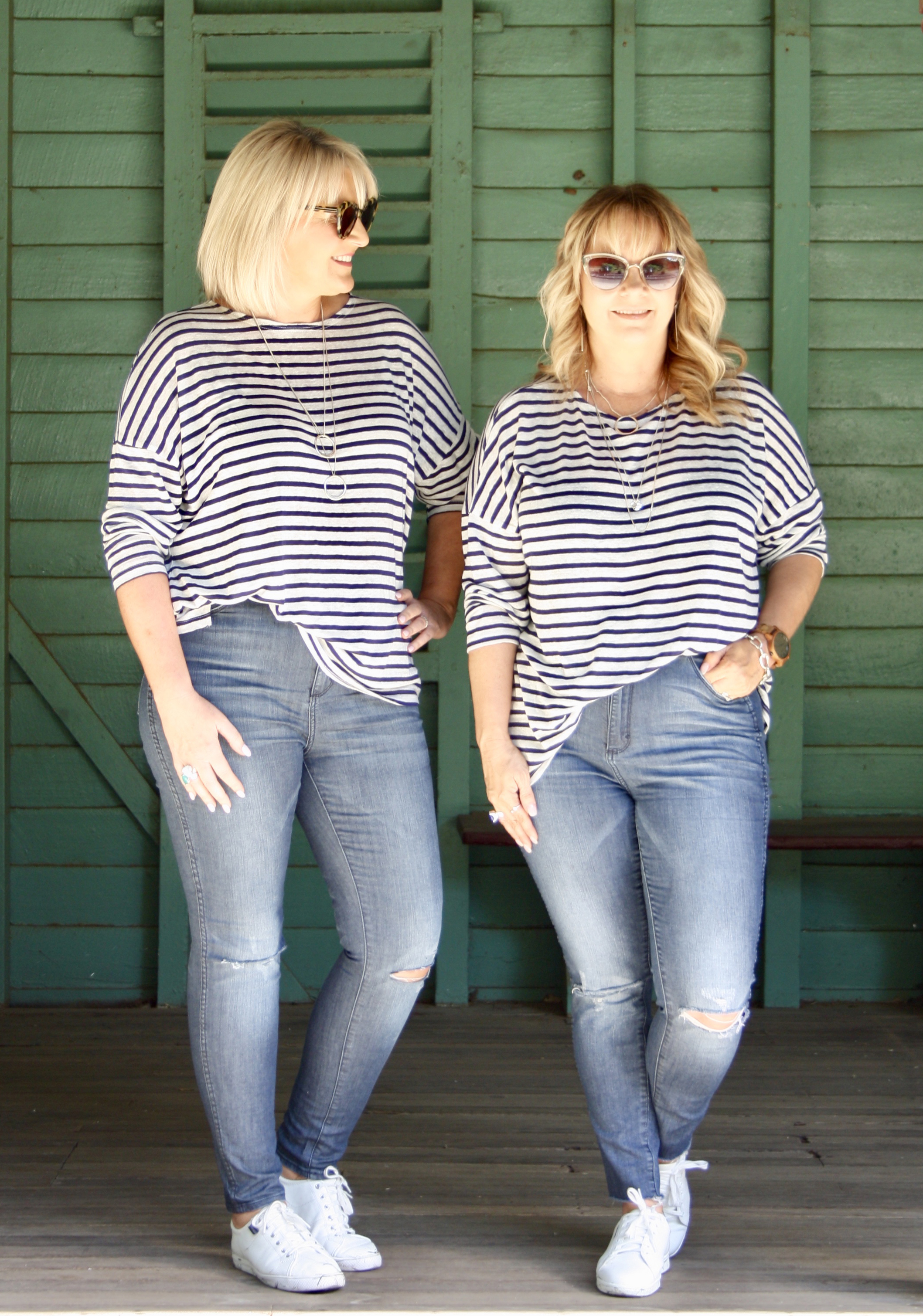 BEV ON THE HIGH WAISTED SKINNY JEAN "girls, if you haven't tried the magical qualities of these BT high-waisted babies yet – you seriously don't know what you're missing! Why they work: (1) Completely fitted through the leg and calf (slimming). (2) High-waisted through the Mum Tum area (superior comfort). (3) Dark wash (flattering). (4) Length (flexible). My opinion when it comes to choosing skinny v's straight leg, the answer is simply – skinnies are WAY more flattering. Yes, even on curvy girls, especially ones that have bigger calves.

KAREN ON THE STRIPED OVERSIZED BOYFRIEND TEE "Now let's focus on the striped tee, this is very relaxed fit – I could have gone done a size but really wanted to embrace the relaxed feel. It is a real winter wardrobe staple so easy to throw on and out the door, which suits my lazy girl personality to a T."

KAREN ON THE HOUNDSTOOTH BLAZER "I bought the Houndstooth Blazer as soon as it was released – it is my investment piece of the season and it has already had multiple wears. It is a fabulous piece that is easily added to an outfit.
This could actually be added to all of these looks but we decided to just show you how it would look with the striped tee and jeans look. We just kept our sneakers on for this look but we could have easily have swapped out the sneakers for heeled boots which would instantly dress up this look."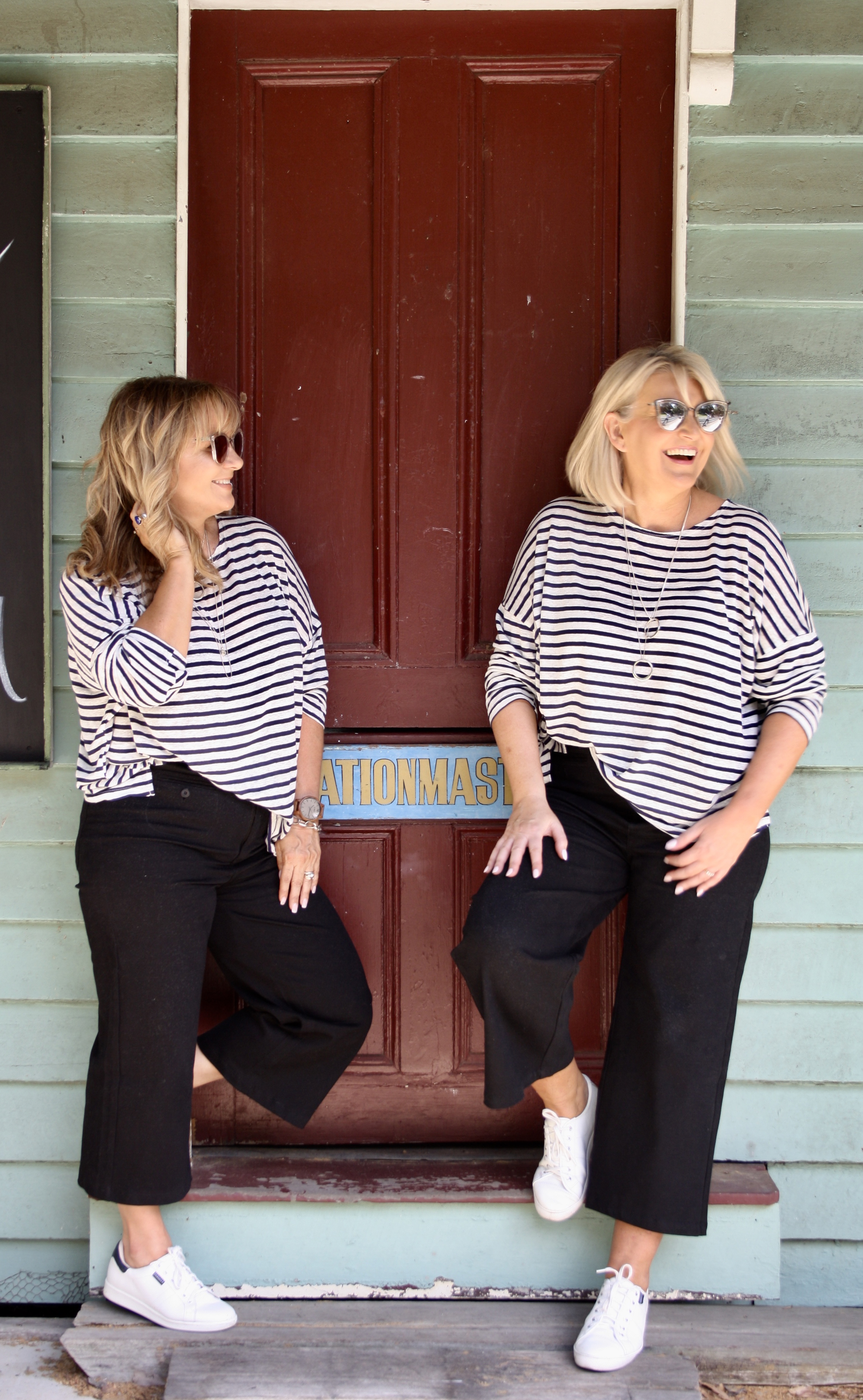 KAREN ON THE WIDE LEG PANT IN BLACK "I just love this look (shown above), works so well on both heights.
I altered these pants to make them work for me. A little about the fit of these pants – they have a lot of stretch in them so when deciding on what size you get you just need to think about what sort of fit you want. I sized down to a size 10 to get a more fitted look around the waist but Bev stayed with her usual size as she preferred them to be slightly a little less fitted. I really wanted to wear heels that showed a lot of foot as I said before this creates the illusion of length. (shown below)"
BEV ON THE WIDE LEG PANT IN BLACK "These pants have a great amount of stretch, so you could easily size down (i.e why I have also have the 30″ waist), it just depends on the type of fit you prefer. Personally, I where possible, would normally choose to skim my butt and thigh area, rather than emphasise it (only when wearing a wider leg pant though) – my height does however help with making this decision. Because Karen is shorter, she goes for a more figure hugging look, to balance out the extra fabric of the wide leg provides on her hourglass frame.
There is no right or wrong with this one – they are one of the most comfortable pants I've ever had the pleasure of slipping my butt into – so we both hope that by us wearing them and sharing our experience with the fit/sizing, you will feel equipped with enough info, to give them a go yourself."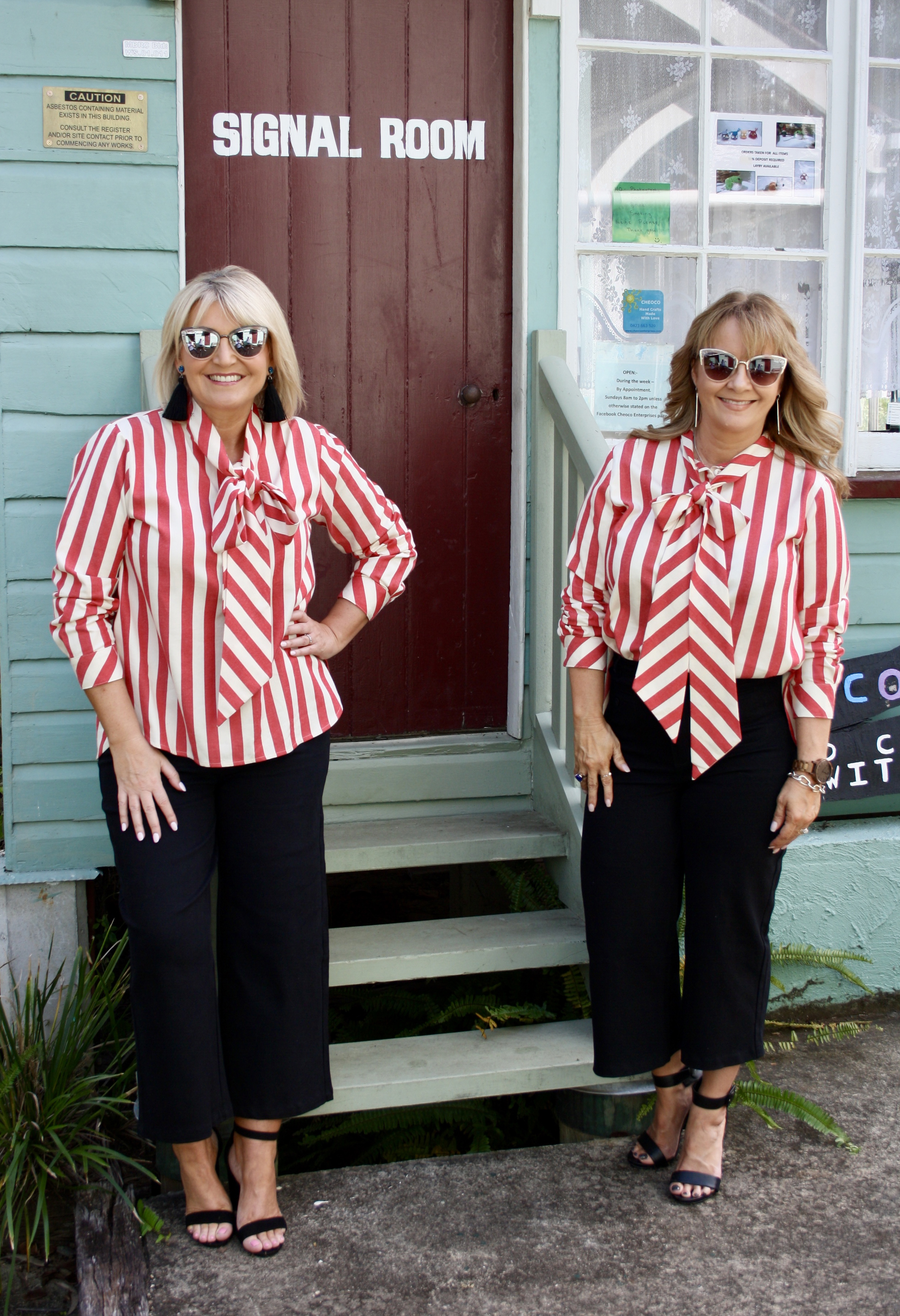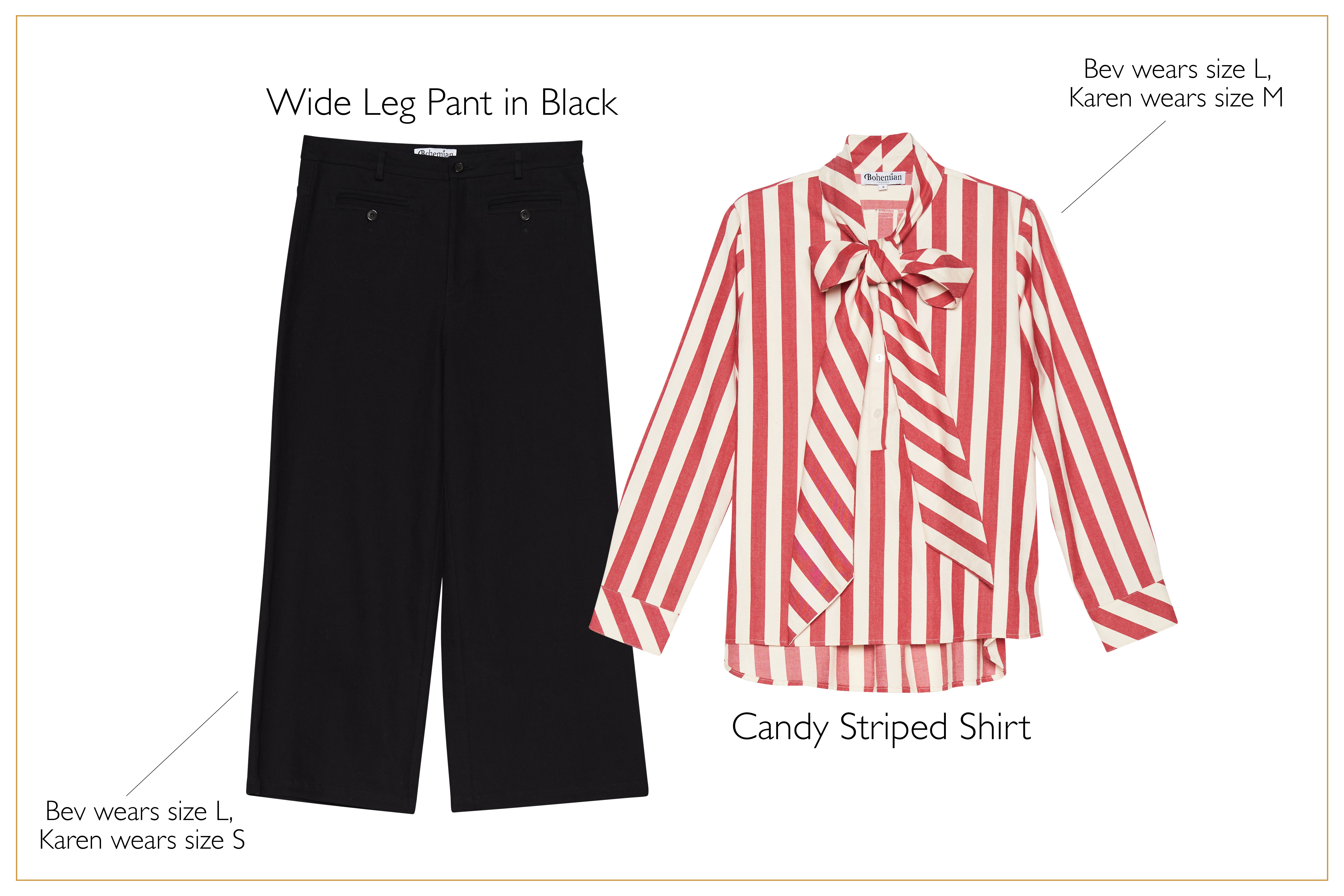 KAREN ON THE CANDY STRIPED SHIRT "As soon as I put on this shirt I fell in love – its made from 100% cotton, has a great winter weight to it and is extremely striking to wear.
This has a high low hem with quite a high side split so that it makes it easy to do a half or full tuck if you want to. It has a tie collar, we have left it open for this look (shown below) and for me as a gal with a generous bust this would be my preferred option but we have styled it tied (shown above) so that you can see what this looks like."
BEV ON THE CANDY STRIPED SHIRT "The BT candy stripe shirt was also another perfect piece to showcase on the LONG and the SHORT of it. We wanted to share that even fuller busted girls, need not hide from the necktie – we are showing how the neckline looks, worn both bowed and worn loose."
~
A huge thanks to Bev & Karen for all they have done in sharing Bohemian Traders with their beloved audience!
See more of their superb personal styling on their INSTAGRAM and BLOG with the following links.


Stay up to date with Bohemian Traders | Sign up to our newsletter