MUMMAS WE LOVE • Dimity Sienkiewicz @_dimity_
In the second instalment of our 'Mummas We Love' series we're sharing our catch up with creative mother of two, Dimity Sienkiewicz @_dimity_ , to discuss what a day in her life is really like.
If you're loving our matching 'Mumma and Me' styling inspiration, head here to read other interviews in this series and shop 'Mumma and Me' pieces here.
…
Describe your perfect day off.
My perfect day off would be spent with my family – starting with a big sleep in and waking up to a warm chai in bed! Breakfast is my favourite meal, so we would go out to our local cafe for brekkie. Then spend the morning wandering around local markets and buy a fresh juice. Lunch by the beach, come home for Ochre's afternoon nap and while she naps do some craft with Zaeli. Then in the afternoon go for a bike ride around our local lake, followed by sunset dinner by the lake. Home for baths and bedtime for the girls. I always love to end my day with some stretching and then a warm cup of tea on the couch watching a movie with hubby (a little back massage would top it off!)
Coffee or tea?
Tea!!! I can't stand the taste of coffee but I love the smell. I'm actually a chai girl.
Describe to us what a day in your life looks like.
Now I have just answered question one, I realised my 'perfect' day is actually very similar to my typical day….so I'm feeling pretty blessed about that except my typical day includes house chores and cooking (which wouldn't be in my perfect day!)

A typical day for me and my two girls would be we start our day around 8am (I am lucky my girls like to sleep in like me). My eldest daughter Zaeli usually comes up to our bed around 8am and we lay there talking until we hear my youngest daughter Ochre wake up. We then have breakfast together while I make a chai on the stove. We always head outside as we love being outdoors and exploring our natural environments. In summer we spend our days at the beach and in winter we go for walks around the lake/bushlands and we always pack our lunch to eat outside. On our way home we often make a sneaky trip to one of our local op shops to have a little browse.

When we get home Ochre has her day nap and Zaeli and I head down to our back 'craft room' and spend the arvo making craft together. I make dinner for the girls and get them ready for bed and my husband usually gets home before their bedtime. This is our favourite time of the day where we usually just play on the ground together, talking about our day and reconnecting. Mike puts Zaeli to bed whilst I put Ochre to bed as I am still breastfeeding her. My husband and I then have our dinner and I always end my day with some stretching and a warm tea. I am a night owl, so this is when I become productive and do all my house chores or any craft projects I want to do (I just don't like the idea of 'wasting' my day doing house chores!) I then normally read a book on the couch and I go to bed around midnight …and then it all starts again!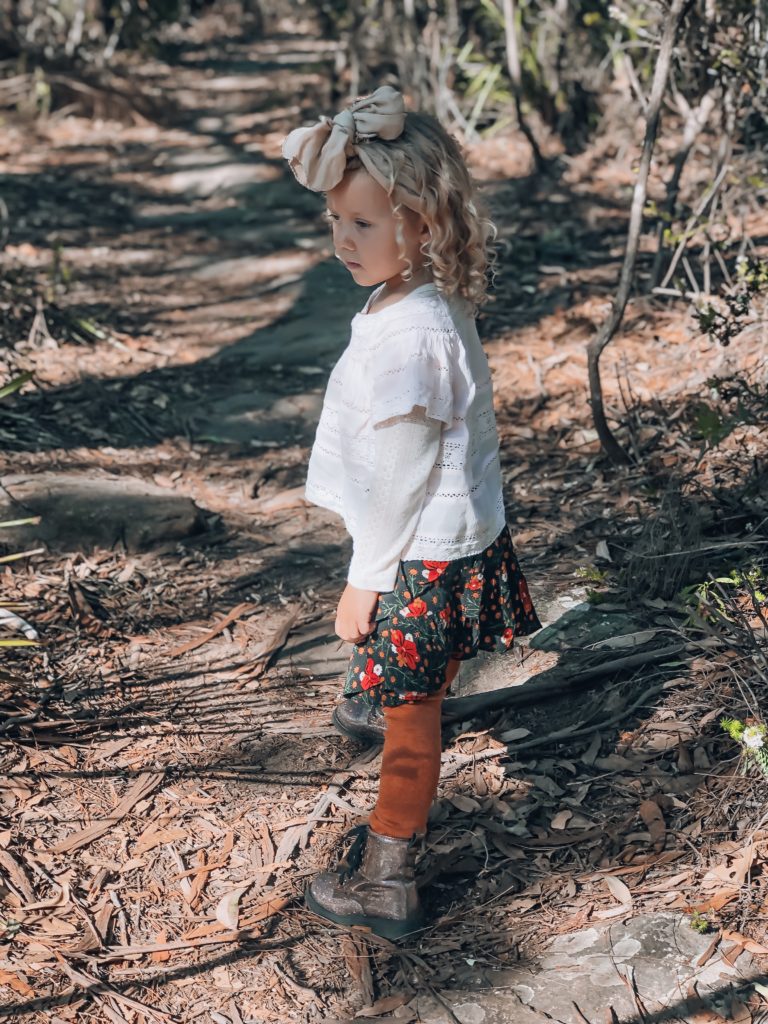 If you could be anywhere in the world, where would it be and why?
​The best holiday I have ever been on is definitely South America, I would go back there in a heartbeat and would love to experience it with my husband and daughters! It visually appealed to all my senses and was the best cultural experience! (I also have a massive soft spot for Byron Bay, we have so many beautiful family memories there…so it holds a special place in my heart).
What are you currently binging on Netflix (or Stan, or TV in general)
We are not really much of a TV family (we don't have Netflix or Stan) so I'm definitely out of the loop on any TV series. If I do watch a movie I love a good emotional, real-life documentary.
What is your favourite part about being a parent?
Oh gosh, this is a tough one….can I say EVERYTHING??? Becoming a mother is by far the most amazing thing in my life. When I became a mother everything changed, yet I am more 'me' than I have ever been. I have never felt as comfortable in life as I do in the role of being a 'mumma'. Becoming a mother has made me feel more content than ever; it has made me truly understand the meaning of unconditional love, feel more comfortable in my own skin, appreciate my body in every form of self love and made me feel emotions I have never felt before. It has made me want to be a better person, to help make our world a better place and made me more compassionate to every living being. It has made me fall in love with my husband more than ever seeing him as a Daddy, and made me appreciate mother nature for all she is worth. Motherhood has made me love my mumma and my family more than ever and made me reach out to my community/sisterhood. It has made me see beauty in the mundane and appreciate the small things. It has made me grateful for every single day and made me learn all new kinds of patience, plus made me slow down and be present to realise I am powerful beyond measure.
My daughters have taught me more in the past 4 years than I have learnt in my entire life. Children are our greatest spiritual teachers and I am so grateful to be learning every day along with them. I love seeing the world through their eyes but most of all I love seeing the beautiful sisterhood of my daughters blossom as they grow together.
What is the strangest (or best?) gift your little one has ever given you?
My eldest daughter is four-years-old so this year is probably the first time she has started making her own gifts which I just love! Handmade gifts are the best. This year for mother's day I got four different handmade cards and some beautiful crafts – I love anything handmade!
What do you love about the Bloom Baby Bloom pieces you and your little one are wearing?​
I love the beautiful floral print of the Little Bloom Skirt – I am a lover of anything floral! I absolutely adore the ochre leggings which have become a staple in Zaeli's wardrobe. But my favourite piece is definitely the sweet Little Lace Trim Blouse in pink. I love the soft textures of the blouse paired with the dark prints of the skirt. I love that everything is so easy wearing and mixes and matches so effortlessly. Zaeli also loves that she can be matching with mumma!
What inspires you?
Mother nature has to be the biggest inspiration of all. I always feel so recharged and inspired after we go for walks in nature or watch a sunset over the beach. Mother nature can pop up in the most unexpected places like a vine climbing over an urban wall, a wildflower growing out of a gutter, or the reflection of the sunlight making rainbows on your wall. I am constantly in awe of the beauty around us.
…
For a limited time when you purchase any print piece from our 'Bloom Baby Bloom' or 'Sundancer' collections you will receive a complimentary matching piece for your little one. *Promotion excludes Bloom Baby Bloom and Sundancer wraps.
SHOP Mumma and Me