Recipe // Cider Pulled Pork with Soft Tacos
Pulled pork tacos are just about the easiest, most delicious way to get your 'Taco Tuesday' (or any day's) dinner on the table. Add your favourite topping, devour them like they're the last tacos on earth and apologise to no one!
---
---
Ingredients:
---
mini flour soft tacos
sliced pickled jalepenos
2kg pork shoulder
1 brown onion, diced
1 head garlic, halved
1 bunch coriander roots
2 tsp ground coriander
2 tsp ground fennel
2 tsp ground cumin
1 tbsp sea salt flakes
1 tbsp olive oil 60ml apple or pear cider
1 cup (250ml) vegetable stock
Salad
1/4 green cabbage, finely shredded
2 leaves curly kale, stem removed and leaves finely shredded
1 tsp olive oil
salt and pepper
Guacamole
2 avocados
1/2 bunch coriander leaves chopped
juice of 1 lime
Method:
Preheat the oven to 120 degrees. This could also be done in a slow cooker if you prefer.
Place the pork in a large oven proof crock pot.
Drizzle the olive oil in the pan and over the pork shoulder.
Rub the shoulder with salt, and the ground herbs.
Add the onion, garlic and coriander roots.
Pour over the ciders and veg stock.
Cover with lid and place in the oven.
Check every 2 hours and stir to make sure the pork is moved around and in the liquid. Cooking will take about 5-6 hours. The slower and longer you have the better. You can speed up if you need and cook at 160-180 for 2-3 hours, just keep a check to make sure your liquid doesn't reduce too quickly and dry out.You'll know the pork is ready when you poke with a spoon and the meat falls apart.
Remove all the pork and use two forks to pull the meat into strips.
While the pork is cooking prepare your accompaniments. I like to shave some cabbage and kale, massage with olive oil and season well to soften the veg.
In another bowl, mash the avocados, season with salt and lime juice and mix through the coriander leaves.
Serve the pork on a platter and top with fresh coriander. Pile the tacos with some avocado mix, pork, cabbage salad and japelenos.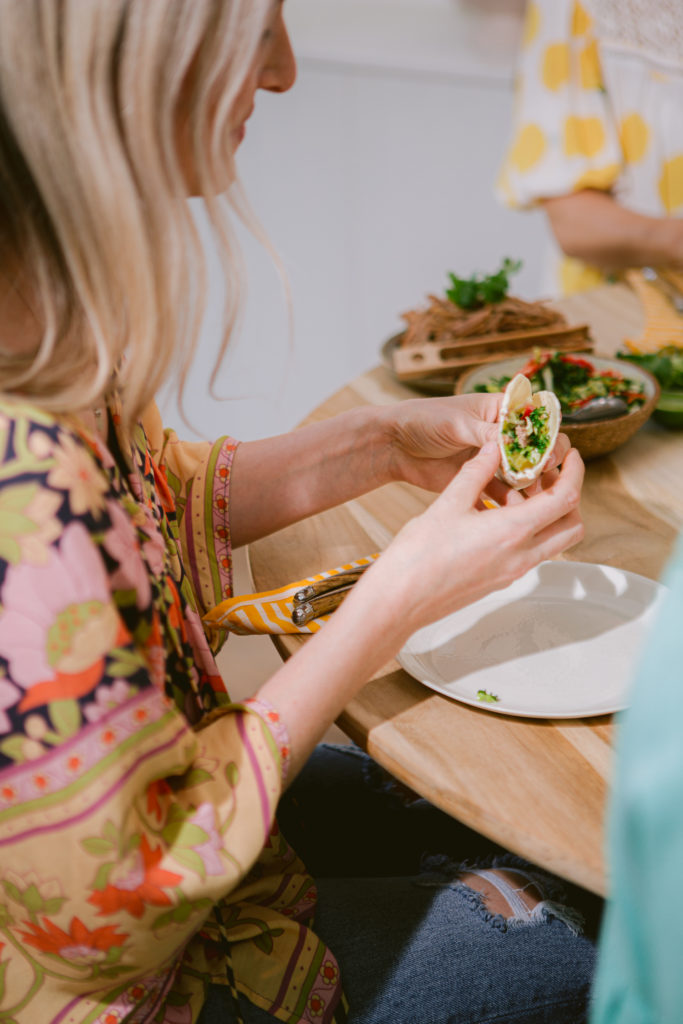 ---
Shop the look
 ~ Recipe Written & Styled by Amelia Wasiliev @amelia_propsandstyling Photography by Luisa Brimble @luisabrimble Homemade Tableware by Melissa Lellouche @melissalellouche Additional props are stylists own and available for hire @amelia_propsandstyling Shot on location @shoot_location ~