Recipe // Baked Salmon & Soba Noodle Salad
A delicious and healthy combination of soba noodles and baked Salmon, topped with a delicious Japanese style dressing. So tasty and satisfying, you'll have this recipe on high rotation this season.
---
---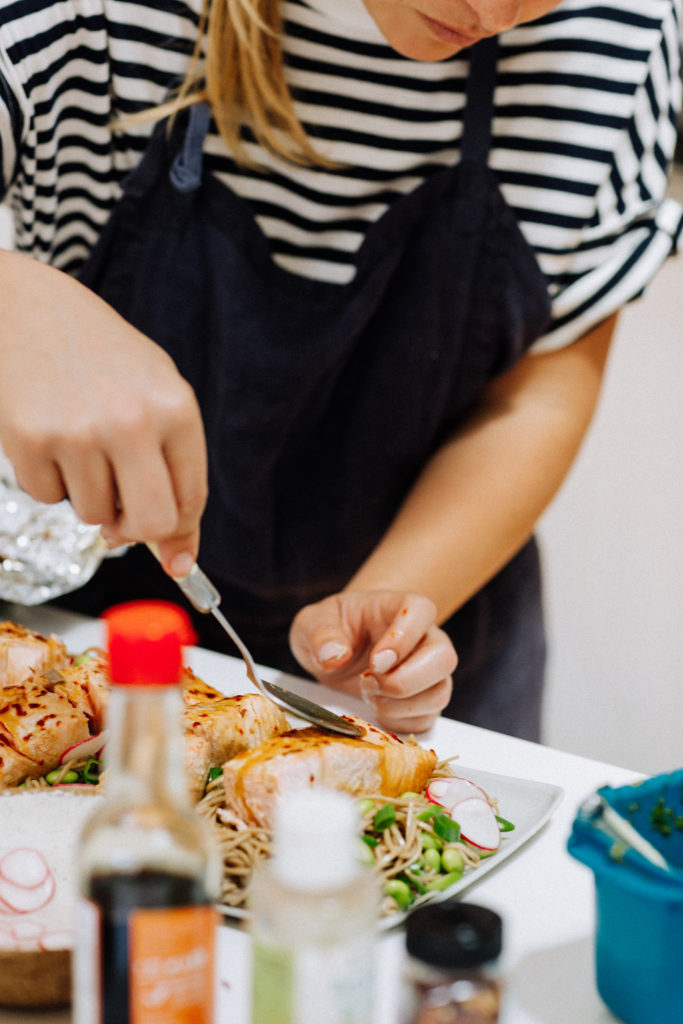 Serves 4
---
Ingredients:
Salmon
4 salmon fillets
150g buckwheat soba noodles 100g podded edamame beans
3 spring onions, sliced
3 breakfast radish, thinly sliced
3 tsp sesame oil juice of
1 lime 1 tsp chilli flakes
2 tbsp tamari
1 tbsp agave syrup
Dressing
2 tbsp tamari
2 tbsp rice wine vinegar
2 tsp mirin
1 tbsp sesame oil
Method:
Preheat oven to 180 degrees.
Cook the soba noodles according to the packet and drain and rinse in cold water. Line a baking dish with foil, lay salmon fillets on top leaving enough foil to wrap and cover fully.
Pour the sesame oil, lime juice, tamari and agave over the salmon fillets. Sprinkle with chilli flakes.
Cover with foil and place in the oven for 12-15 minutes or until cooked to your liking.
While the salmon is cooking, combine the cooked soba noodles in a mixing bowl with the edamame, radish and spring onions.
Pour the dressing ingredients over and mix together.
When the salmon is cooked, serve on top of the soba noodle salad. Pour the juices from the pan over the top.
---
Shop the look
 ~ Recipe Written & Styled by Amelia Wasiliev @amelia_propsandstyling Photography by Luisa Brimble @luisabrimble Homemade Tableware by Melissa Lellouche @melissalellouche Additional props are stylists own and available for hire @amelia_propsandstyling Shot on location @shoot_location ~