Recipe // Beetroot & Hazelnut Layer Cake
This winning dessert is the crowning achievement of the perfect lunch! You'll be guaranteed to have your guests coming back for more.
---
---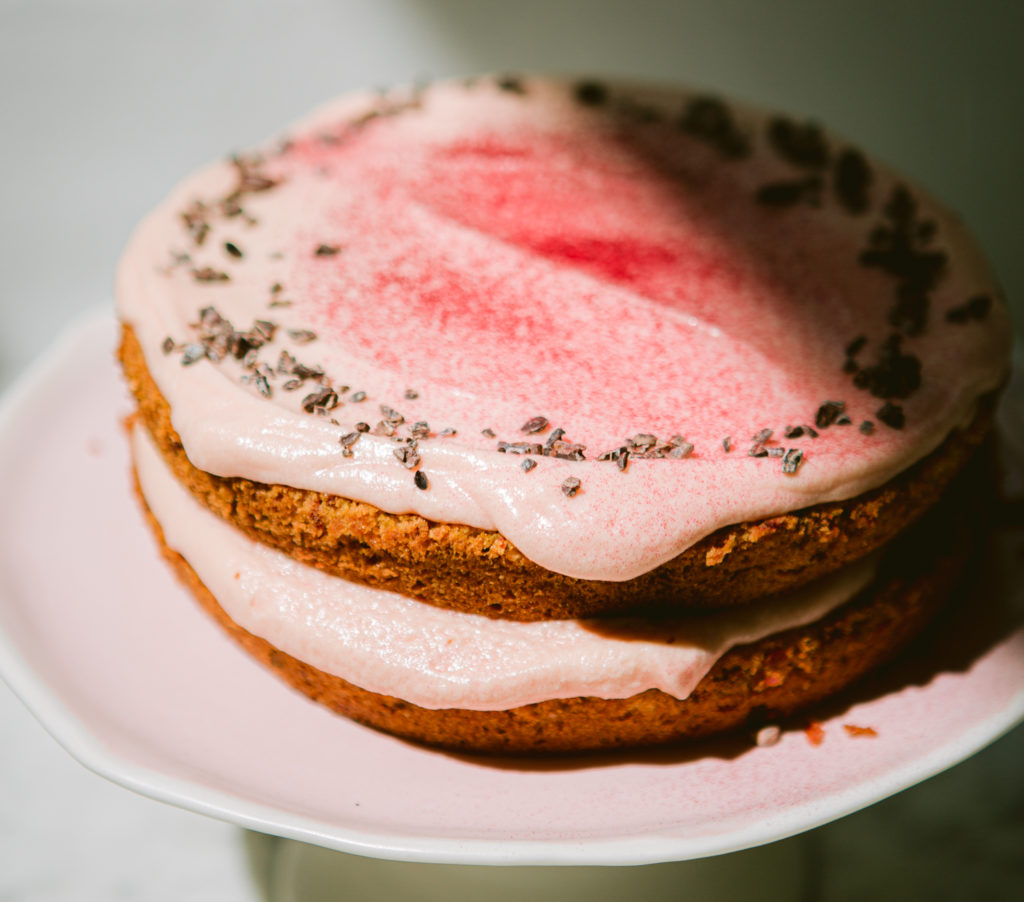 Ingredients:
---
Cake:
150g raw beetroot, grated
200 ml groundnut oil
250g caster sugar
3 medium eggs, separated
3 tablespoons milk
100g hazelnuts, roasted, skinned and finely chopped
200g plain flour
2 teaspoons baking powder
1/2 teaspoon each, cinnamon and nutmeg
Icing:
180g butter, softened
350g icing sugar
1 tablespoon milk
250g cream cheese, softened
1 tsp beetroot coloured water
1 tsp beetroot powder
1 tbsp cocoa nibs for decoration
Method:
Preheat the oven to 170°C.
Grease and line 2 x 20cm round cake tins, with removable base.
Place 1 tsp of grated beetroot in a small bowl and cover with 1 tsp of boiling water. This will colour your icing later. Don't be tempted to add more water as it will dilute the colour and you'll not get much of a change to your icing. Leave aside to cool.
Sift the flour and baking powder and spices together in a small bowl and set aside.
Whisk the sugar and oil together in a large bowl.
Add the egg yolks and milk then whisk.
Fold in the nuts and the remaining beetroot. Stir the sifted flour mix and the spices into the mixture.
In a separate bowl whisk the egg whites until stiff peaks have formed.
Fold a third of the egg whites into the beetroot mixture and incorporate fully before folding the remaining two thirds into the mixture.
Divide the mixture between the prepared tins and bake for 25 mins or until a skewer inserted into the middle of the cake comes out clean. Cool in tins for 5-10 mins and then turn out on to wire racks to cool completely before icing and assembling.
To make the icing, beat the butter, icing sugar and milk together with an electric mixer.
Add the teaspoon of beetroot coloured water that you reserved in the beginning of the recipe.
Continue to beat until all you have is a thick but smooth and creamy mixture. Add the cream cheese and beat until incorporated.
Assemble your cake with generous layers of icing between each cake layer and ice the top and sides of the complete cake.
Sprinkle the top with cocoa nibs and beetroot powder.
---
Shop the look
 ~ Recipe Written & Styled by Amelia Wasiliev @amelia_propsandstyling Photography by Luisa Brimble @luisabrimble Homemade Tableware by Melissa Lellouche @melissalellouche Additional props are stylists own and available for hire @amelia_propsandstyling Shot on location @shoot_location ~